{Review} City of Heavenly Fire by Cassandra Clare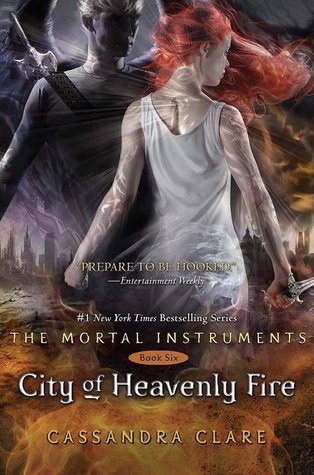 City of Heavenly Fire
by Cassandra Clare
Series:
The Mortal Instruments #6
Pages:
725
Release Date:
May 27, 2014
by Margaret K. McElderry
Goodreads / Purchase
In this dazzling and long-awaited conclusion to the acclaimed Mortal Instruments series, Clary and her friends fight the greatest evil they have ever faced: Clary's own brother.
Sebastian Morgenstern is on the move, systematically turning Shadowhunter against Shadowhunter. Bearing the Infernal Cup, he transforms Shadowhunters into creatures out of nightmare, tearing apart families and lovers as the ranks of his Endarkened army swell.
The embattled Shadowhunters withdraw to Idris - but not even the famed demon towers of Alicante can keep Sebastian at bay. And with the Nephilim trapped in Idris, who will guard the world against demons?
When one of the greatest betrayals the Nephilim have ever known is revealed, Clary, Jace, Isabelle, Simon, and Alec must flee - even if their journey takes them deep into the demon realms, where no Shadowhunter has set foot before, and from which no human being has ever returned...
Love will be sacrificed and lives lost in the terrible battle for the fate of the word in the thrilling final installment of the classic urban fantasy series The Mortal Instruments!
*REVIEW CONTAINS SPOILERS*


They are whited out so you can only read them if you highlight the text
*Also contains an Allegiant spoiler (will be marked)*
I don't know how to put into words my feelings right now.

I finished this beautiful book at 1:30 in the morning with tears streaming down my face.

What an amazing conclusion to an amazing series.
I will admit, I was not a fan of the first book in this series…or the fourth book.

But I've got to say, Cassandra Clare sure knows how to write.

I honestly can't wrap my head around how on earth she thought up all these plot twists and the world and all the history.

She literally created a whole world in the space of 6 books, complete with a full history and so many twists.

This book was a perfect conclusion.

Most of the time when I'm reading a Cassandra Clare book I tear through it and don't take the time to read every single sentence, where she does most of the descriptions.

I know it's bad, I know I don't get the full experience of the book.

But in COHF I took my time, I read every sentence…and man is her writing beautiful.

It flows perfectly and her description scenes are so beautiful and flawless.

Also, her imagination when it comes to the story line and solutions to the problems that the characters face is really impressive.

I loved the twists and turns in this book and the thrilling adventure that we all went on.

The story line was a perfect mixture of fast-paced action and beautiful scenes all mixed into one.

It was perfect.
To be honest, [SPOILER (allegiant): I was expecting a lot more heartbreak and dead characters.

After Allegiant, I don't trust authors.

But, I shouldn't have worried.

Thank goodness Cassandra Clare has a heart.

]

I feel like there was a lot of character development, even in this last book.

We got to see a different side of Alec and Magnus.

I also really liked the improvement of Clary's character, because honestly, in the other books she really annoyed me.

But in this book she was such a strong, brave character, and I loved her.
Jace has changed so much over the course of this series, from snarky boy to intelligent man – still with a bit of snark.

I loved his journey and how he matured.

It's obvious how much he loves Clary, and they're so perfect together.
Alec really grew on me in this book.

Before he was kind of a so-so character but in this book him and Magnus were kind of showcased and I really liked that.
Simon…oh my gosh.

Simon.

I will admit, I wasn't a huge fan of Simon's character in the beginning of this series…and also in the fourth book [SPOILER:

(*

cough* player *cough*)

] but in this book he really grew on me and showed his character.

And that ending.

I was crying so freaking hard. [SPOILER: I couldn't believe when Simon offered to sacrifice so everyone could leave the demon realm and it really showed his character and how selfless he was and how much he loved everyone.

I cried so hard afterwards when Clary went up to him at his school and he didn't recognize her.

And then Magnus went and visited him and he said he knew something was different and THEN HE CAME TO THE WEDDING AND HE REMEMBERED AND GOSH I WAS CRYING SO HARD.

So I guess I lied, I secretly really loved Simon.

I just kept thinking of all he had been through and how many times he had sacrificed something to save everyone else and it just killed me that he wouldn't remember anything.

But it ended fine, he remembered, and I was SO HAPPY! ]
Now I have to talk about Sebastian.

First off, he is the creepiest villain I think I've ever read.

His scenes of dialogue were bone-chilling and terrifying. [SPOILER: Honestly, I didn't see that whole tear-jerker scene with him becoming Jonathan coming.

That completely destroyed me.

I felt so bad for Jonathan/Sebastian.

He really didn't have any choice, he was made into something horrible as a helpless baby, in the womb, and he was thrust into evil.

That scene where he became Jonathan and was so sad and apologetic killed me – and him too because he died haha. And I really didn't expect him to die because I thought that would be too predictable. But the way he died was so sad, and I think it was a good decision to have his character be killed. ]
Somehow, I don't know how, but somehow Cassandra Clare made that amazing ending work.

Just when you think there's no possible way for this all to work, it works. [SPOILER:

I loved the way Clary and Jace tricked Sebastian.

]
Also, I have to talk about Chapter 14. [SPOILER: It was such a sad chapter.

It was so painful to see all the characters with their secret desires and then it was ripped away and it was so sad. Clary's dream got me the most because it showed a happy world where her and Jace were getting married and Jonathan was normal and it was so sad!!! And Alec's got to me too, because all he wants is for his father to praise him, and I feel really bad for Alec and how he's always in the background, never really getting much credit. That scene made me appreciate him even more. ]
ALSO! [SPOILER: Clace sex scene!

YES!!!!

I'm not a pervert, but I think we all can agree that the Fourtris maybe-sex-scene in Allegiant was extremely disappointing, but this scene was AMAZING!!!

It was so beautiful and touching and well described.

Not in the pervert "well-described" way, but in the "this scene was written so beautifully and you could feel the love" way. ]
I can't believe this series has ended.

Next thing we'll be hearing is there will be ANOTHER 3 books added to this series.

But the world that Cassandra Clare has created, and the characters she has created and developed are so well-loved and extraordinary…truly this series is a masterpiece, and I can't think of a better way to end it off.

Even though there were some sad things, this series ended with hope, and I think that is a beautiful way to end it.
5 stars
Other Books by Cassandra Clare
The Mortal Instruments
The Infernal Devices